Barbara is a member of the Free Folk, encountered during
Gared
's journey to find the North Grove.
Character
Edit
Little is known of Barbara; she is obedient to the Wildling Huntress.
Game of Thrones
Edit
This wildling first appears after the Wildling Huntress orders an attack on Gared's group, appearing alongside Jane, Nancy and Rose. During the attack gared or Finn slashes her abdomen and dies.
This wildling reappears in this episode as a Wight. It is assumed she was turned into a Wight after death. She attacks Gared and starts choking him and her head gets cut off by Cotter.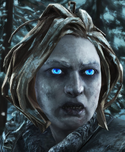 Killed by:
Appearances
Edit
Barbara's name was found in the game files.
References
Edit
Ad blocker interference detected!
Wikia is a free-to-use site that makes money from advertising. We have a modified experience for viewers using ad blockers

Wikia is not accessible if you've made further modifications. Remove the custom ad blocker rule(s) and the page will load as expected.